BOTTLING CONVEYOR
Efficient bottling infeed SmartMove® Conveyor line proves to be a profitable automated system for the beverage industry. Previously, an operator would be hand feeding the bottling line today, the "SmartMove Infeed Conveyor" indexes the row of bottles as needed onto the filling line and they are singulated before being filled. The bottles are placed onto the SmartMove® Conveyor on a pallet, the pallet is removed and the bottles stand up straight without toppling over due to the smooth motion of the belt. Smooth, timed, counted and singulated as they pass through the filling station.
PACKAGING SINGULATION WITH ADJUSTABLE GUIDE RAILS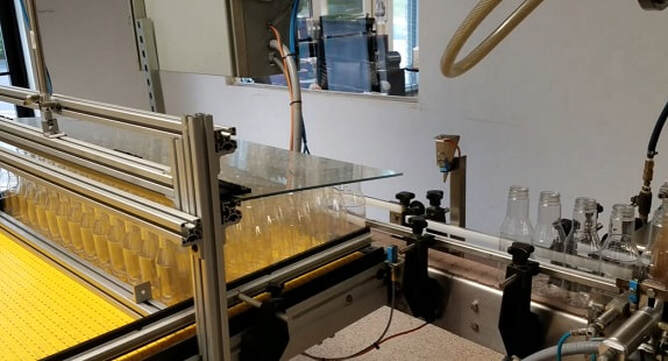 The adjustable guide rails on this SmartMove® Packaging Line Conveyor easily bring the bottles into a single line. The pneumatic arm then gently pushes the bottles smoothly onto the moving belt for an easy transition to the 90 degree capping machine.
Call 1-800-581-2876 or click here to order your SmartMove® Conveyor system now. ​Click here to see all conveyor system types manufactured by Smartmove®.