Sorting Conveyors Increase Productivity
Sorting items for packaging by hand is time consuming and prone to human error. Eliminate mistakes by installing a SmartMove® Conveyor that sorts and counts items for packaging and outbound order fulfillment. This will improve quality control while facilitating easier handling and most importantly, eliminating costly overshipment errors. In terms of operational efficiency, SmartMove® Conveyors always create cleaner work flow and a safer environment for employees.

Sortation At Any Speed
SmartMove can accommodate many types of sorting processes, as our modular plastic chain belt conveyors allow for complex package handling processes like indexing​, shingling, singulating and aligning ​or orientation of items.
We create a system around your needs taking into account the size, shape and weight​s​ of items that require precise sortation as well as the rate (speed) needed on the line. We can also setup multiple diverts on the same line ​for sorting or pushing.​ Items can be transferred off either side of the conveyor belting to other conveyors or workstations. Variable speed motors ensure that your employees can adjust belt ​speed​ to match the volume of items ​required​. Our ​"S​orting ​​Conveyor​"​ systems easily handle​s processing of heavy items at low, medium or high speeds. Sortation is the process of separating items to specific lanes with the purpose of arranging product for ​packaging​. Sortation conveyor systems are often employed when a high volume of items need to be moved ​into ​different destinations for further​ processing. ​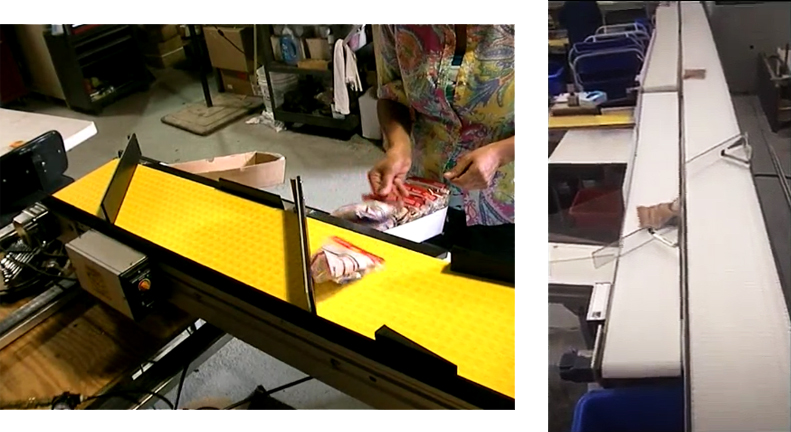 Built To Last
SmartMove® Conveyors modular snap link plastic chain sorting conveyors provide a long service life, and feature quiet, maintenance free operation.

CLICK HERE to "Spec Out" a custom conveyor system. Built to order & shipped out fast.