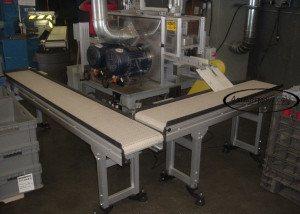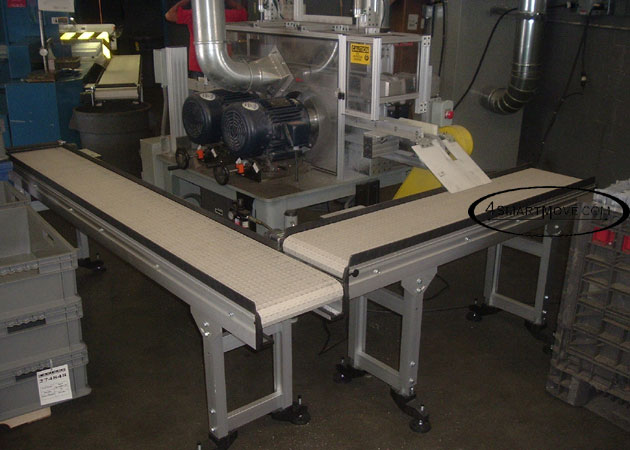 Making a 90 degree turn with SmartMove Conveyors is easy. Simply align the end of one SmartMove Long or Short Line Conveyor with the side of the start of another. A number of SmartMove conveyor accessories can handle any product orientation requirements. SmartMove also can create a custom 90° turn conveyor with rails for higher speed requirements. We also offer Angled and S Curve configurations, as needed.
Photos of 90 Degree Turn Conveyors
Videos of 90 Degree Turn Conveyors
SmartMove 90 Degree Turns Conveyor Features:
Cut resistant polypropylene belting can handle material that may otherwise damage conventional belting.
SmartMove snap-link belting will last over 5 times longer than other types of belting made of cloth or plastic. Save money by replacing only the damaged sections instead of replacing an entire belt. Quickly repair belt without tools.
Superior low friction allows belt to slide under items to create low pressure accumulation.
Protect operators from injury with unique snap-link belting that acts like a fuse to separate during overload or jams.
Save on electricity with high efficiency drive that uses only 25 Watts (1/30Hp) to carry 200 lbs.
2 Year Warranty
Plug & Play – Easy Installation
Benefits of making 90° turns with SmartMove modular universal sections:
Create a turn any place you put the end of one conveyor at the side of the other. Simply remove a section of the guard rail (requires cutting with a saw) on the conveyor that you are going to be merging onto. For improved turning performance, replace the removed guard rail with our "tilting" end-to-side transfer plates.
Most products with a flat bottom will easily transfer at the corner. For non-flat items, we recommend setting the drop end conveyor higher and letting the products "waterfall" onto the other conveyor.
This simple method of turning at a corner is about half the initial price of a power turn and will not require the maintenance that is normally associated with power turns.
Portable — Quiet — Clean — Modular — Safe — Energy Efficient — Maintenance Free
A well designed conveyor lasts longer when it is working more efficiently… and by using a smaller motor, the conveyor is safer to operate!
Easy to Order — Quick Shipment — Simple to install With Factory Direct Prices
90 Degree Turn Conveyor System Applications
Manufacturing
Modular Work Cells. Individual conveyors can be easily joined together to form work cells. Perform sequential assembly and control pace and flow with our variable speed drives. With the addition of "Inline Work Surfaces" and
"Side Shelves," you can improve your productivity by working directly on the line, instead of on separate side tables.
Note: To keep from getting "trapped" in a work cell, consider installing SmartMove gates.
Automation
Create return systems. When equipment feeds from one side to the other, a simple set of cornering conveyors can be set up to return the finished items back to the loading side of the equipment, thereby allowing the operator to operate the machine from a single side.
Packaging Lines
Flexibility with turns. Move material through existing isles and walkways when space is tight.
Multi feed lanes. Merge material from multiple machines onto single lines with corner turning capability.
90 Degree Turn Conveyor Specifications
Loading Table
Lengths and Loads/Belt Width
Belt Width (inches)
Maximum Length (feet)
Maximum Load (pounds)
6″
20′
150 lbs.
9″
30′
200 lbs.
12″
40′
250 lbs.
15″
50′
300 lbs.
18″
60′
350 lbs.
21″
60′
350 lbs.
24″
60′
350 lbs.
27″
60′
350 lbs.
30″
60′
350 lbs.
Conveyor Length: See Loading Table
Belt Sizes: 6″, 9″, 12″, 15″ ,18″, 21″, 24″, 27″, 30″, (Conveyor is 1″ wider than belt width)
Frame Support Load: 200 lbs on a single section.
Carry Load: up to 200 lbs. (Actual load depends on Drive speed and motor.)
Accumulation Load: up to 100 lbs. (Approximately 1/3 to rated carry load.)
Stands: Stands are used to support and to join conveyor together. See Product Stands for Details
Built-in Guard Rails: Removable 1″ high guard rails are included on all models. Optional "flush" guard rails can be substituted when ordering. (See Accessories, Adjustable Guide Rails if you want to deflect product being carried on the belt.)
Minimum Part Transfer: End-to-end transfer with back pressure = 0.5″ long. End-to-end without back pressure = 3″ long.
Maximum incline: 10″
Operating Temperature: 0°-185° F (Please consult factory for exceptions and specialty belting for higher intermittent temperature ratings.
Warranty: 2 Years. (Please download our Owners Manual for a copy of the warranty)
90 Degree Turns Conveyor Belt Styles
| | | |
| --- | --- | --- |
| HY-Yellow | RY-Yellow | BY-Yellow |
| Flat — Static Dissipative | Ribbed — Static Dissipative | Brush — Static Dissipative |
| Safety Yellow that eliminates static sparks. Flat belt ideal for inspection and high visibility of moving parts. | 3/8″ high ribs on 3/4″ or more centers. Ideal for drying, cooling or minimal belt contact. Not recommended for inclines or transfers. | Designed to low pressure accumulate circuit boards without sensors. Belt can slide under populated boards. |
90 Degree Turn Conveyor Drawing & CAD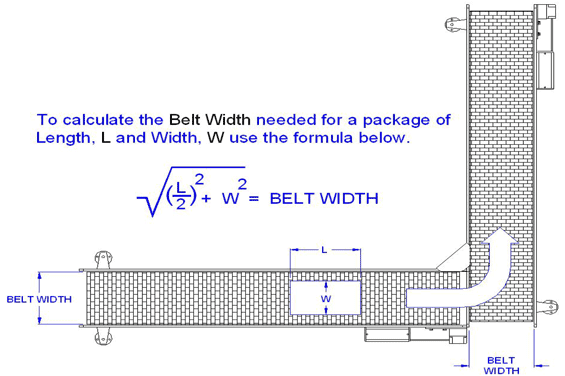 90 Degree Turns Conveyor Info Pack
Want to order?
Get started with our information packet.
Info Pack contains:
Contact information
Specifications needed to order
Product drawing
Product pictures

CLICK HERE to "Spec Out" a custom conveyor system. Built to order & shipped out fast.