Remote Control Box End Cover (2)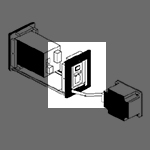 With screws to hold in place.
Extension Block Replacement Set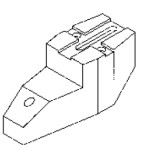 Includes 2 extensions blocks as pictured and hardware.
Spare RY Belting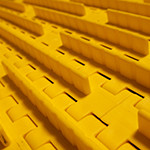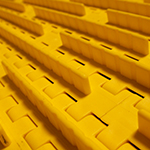 Ribbed and Static-Dissipative. 3/8" high on 3/4" centers. Ideal for drying, cooling, or minimal belt contact. Not recommended for inclines or transfers.
End Stop Plate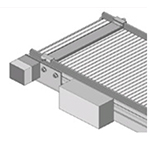 Mounts on the 1″ high standard guide rails anywhere along the length of the conveyor to stop product on the belt. This attachment is excellent for low pressure accumulating product by providing a non-marring stop that delivers and holds items for operators. Low height makes it easy to lift products over the end stop plate for sequential assembly. (Not used in conjunction with conveyors that have ribs or flight that may allow items to wedge or be pinched between the stop and the flight.) Part number with "H" is used on conveyors with flat belts while "B" is for Brush belts. Constructed of anodized aluminum and black anti-static grade UHMW.
Spare HY (Safety Yellow) Belting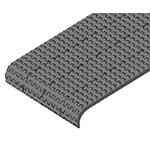 Sold by the foot. You will need twice the length of the conveyor to replace the entire belt. SmartMove®'s unique snap-link belting is easy to install. HY belting is ESD safe and designed for direct contact with electronics.
Idler Shaft Replacement Kit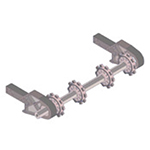 Includes fully assembled idler for the belt width specified. Can replace existing idler or be used to install on end of section previously not having an idler.
Caster Kit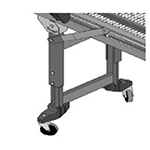 Includes two swivel locking plate casters and support arm in place of standard level pads. Caution: Casters increase risk of tip-over. Avoid using casters on conveyors with belt widths less than 12″ and do not use casters on stands extended over 40 inches TOB. We recommend providing additional support to the conveyor to avoid tip-overs by attaching conveyor to other stationary objects. Note: Casters add 2″ to lowest height range listed for stand.
Spare Drive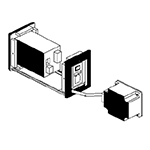 Quick and wireless motor replacements. Kit includes wired motor and controls pre-assembled to the removable base of our control box. Simply remove the cover screws (top and front) of the motor control box. Remove covers to separate electronics base plate from frame. Remove 4 motor screw to complete motor removal. Reverse steps to install replacement motor. Note: Motor direction may need to be reversed if motor location and gearspeed is not specified at time of order.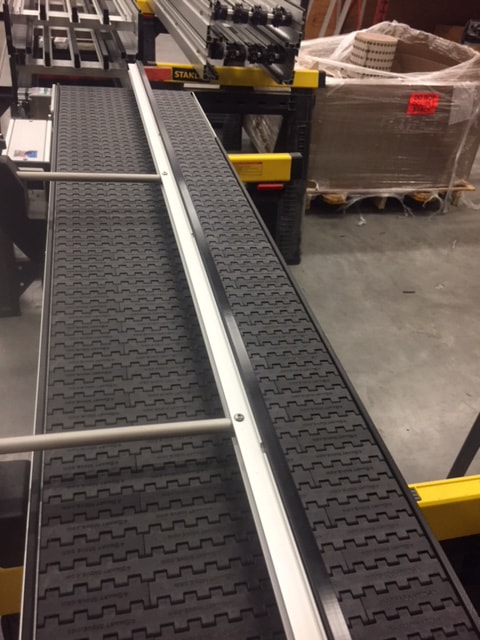 Adjustable Guide Rail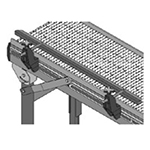 Mounts to "T" Slots on Frame. Please specify: (1) Stroke for inward adjustment in inches, (2) Length to cut if needed, (3) Attach adjustment post on top, bottom or end of "c" channel. Vertical adjustment of mounting block is approximately 1″.
Drive Shaft Replacement Kit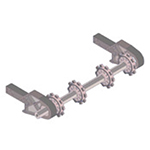 Includes fully assembled drive shaft, bearing, supports and sprockets to the belt width specified. Can replace existing drive or be used to install on end to create new drive location. (Note: Does not include motor.)
Extension Cord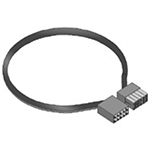 Plugs in-between the motor cable and the unit controller inside the motor control box. Available in 1 meter (39″), 2 meter (79″), 3 meter (118″) and 4 meter (157″) lengths to allow remote mounting of the motor on/off and speed setting. Proper strain relief and grounding must be used if not having factory installed.