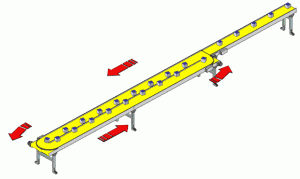 SmartMove Conveyor Multi-Lane Conveyors allow the option to recirculate product on the conveyor belt in different directions. Perfect for inspection systems, and incorporating robotics.
Photos of Multi-Lane Conveyors
Videos of Multi-Lane Conveyors
SmartMove® Multi-Lane Conveyor Features
Cut resistant polypropylene belting can handle material that may otherwise damage conventional belting.
SmartMove snap-link belting will last over 5 times longer than other types of belting made of cloth or plastic. Save money by replacing only the damaged sections instead of replacing an entire belt. Quickly repair belt without tools.
Superior low friction allows belt to slide under items to create low pressure accumulation.
Protect operators from injury with unique snap-link belting that acts like a fuse to separate during overload or jams.
Save on electricity with high efficiency drive that uses only 25 Watts (1/30Hp) to carry 200 lbs.
2 Year Warranty
Plug & Play – Easy Installation
Benefits of SmartMove® Multi-Lane Conveyors
Single frame design simplifies installation and eliminates alignment adjustments.
With no framework between moving belts, parts transfer seamlessly.
Modular construction allows multiple sections with multi-lanes.
Patented drive allows motors to be installed anywhere along the frame to provide independently controlled zones.
Design is compatible with all other SmartMove Conveyors.
Portable — Quiet — Clean — Modular — Safe — Energy Efficient — Maintenance Free
A well designed conveyor lasts longer when it is working more efficiently… and by using a smaller motor, the conveyor is safer to operate!
Easy to Order — Quick Shipment — Simple to install With Factory Direct Prices
Multi-Lane Conveyor Applications
Manufacturing
Assembly Lines. Multi-lanes can be used to create a delivery and take-away system. For example, a 3-lane system could be used to independently deliver to workers on both sides of the conveyor while utilizing the middle lane to transfer completed assemblies. Multi-lanes can also be used to create powered rack systems to automatically reload after items are removed from each lane.
Automation
Delivery Systems. Use multiple lanes to store and deliver components to machines in conjunction with robotics.
Molding. Use multiple lanes to accumulate and store completed machined components from automation machinery.
Packaging Lines
Boxed Kits. Create multiple items delivery systems for easy loading of boxes.
Box Delivery. Use one lane to deliver empty boxes while another lanes removes filled boxes. Saves space.
Electronics PC Board Assembly
Multiple Inspection. Move items from one lane to another after completing each inspection process. Multi-Lane Conveyors can be order with brush belting to allow for accumulation of populated circuit boards.
Loading Table
Lengths and Loads/Belt Width
Belt Width (inches)
Maximum Length (feet)
Maximum Load (pounds)
6″
20′
150 lbs.
9″
30′
200 lbs.
12″
40′
250 lbs.
15″
50′
300 lbs.
18″
60′
350 lbs.
21″
60′
350 lbs.
24″
60′
350 lbs.
27″
60′
350 lbs.
30″
60′
350 lbs.
Multi-Lane Conveyor Specifications
Conveyor Length: See Loading Table
Belt Sizes: 6″, 9″, 12″, 15″ ,18″, 21″, 24″, 27″, 30″
(Conveyor is 1″ wider than belt width). Total of all lanes cannot exceed 30 inches.
Frame Support Load: 200 lbs on a single section.
Carry Load: up to 200 lbs. (Actual load depends on Drive speed and motor.)
Accumulation Load: up to 100 lbs. (Approximately 1/3 to rated carry load.)
Stands: Stands are used to support and to join conveyor together. Upper levels require joiner bars to hold sections together. See Product Stands for Details
Built-in Guard Rails: Removable 1″ high guard rails are included on all models. Optional "flush" guard rails can be substituted when ordering. (See Accessories, Adjustable Guide Rails if you want to deflect product being carried on the belt.)
Minimum Part Transfer: End-to-end transfer with back pressure = 0.5″ long. End-to-end without back pressure = 3″ long.
Maximum incline: 10″
Operating Temperature: 0°-185° F (Please consult factory for exceptions and specialty belting for higher intermittent temperature ratings.
Warranty: 2 Years. (Please download our Owners Manual for a copy of the warranty)
Multi-Lane Conveyor Belt Styles
| | | |
| --- | --- | --- |
| HY-Yellow | RY-Yellow | BY-Yellow |
| Flat — Static Dissipative | Ribbed — Static Dissipative | Brush — Static Dissipative |
| Safety Yellow that eliminates static sparks. Flat belt ideal for inspection and high visibility of moving parts. | 3/8″ high ribs on 3/4″ or more centers. Ideal for drying, cooling or minimal belt contact. Not recommended for inclines or transfers. | Designed to low pressure accumulate circuit boards without sensors. Belt can slide under populated boards. |
Multi-Lane Conveyor Drawing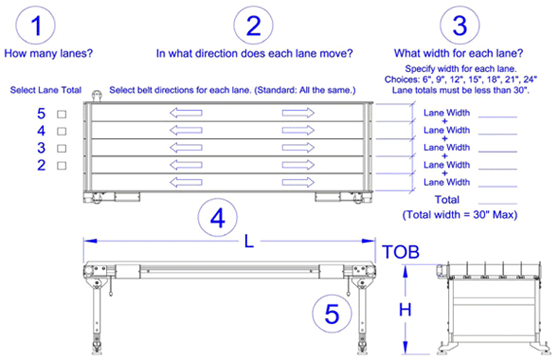 Multi-Lane Conveyor Info Pack
Want to order?
Get started with our information packet.
Info Pack contains:
Contact information
Specifications needed to order
Product drawing
Product pictures
Download Multi-Lane Conveyor Info Pack

CLICK HERE to "Spec Out" a custom conveyor system. Built to order & shipped out fast.