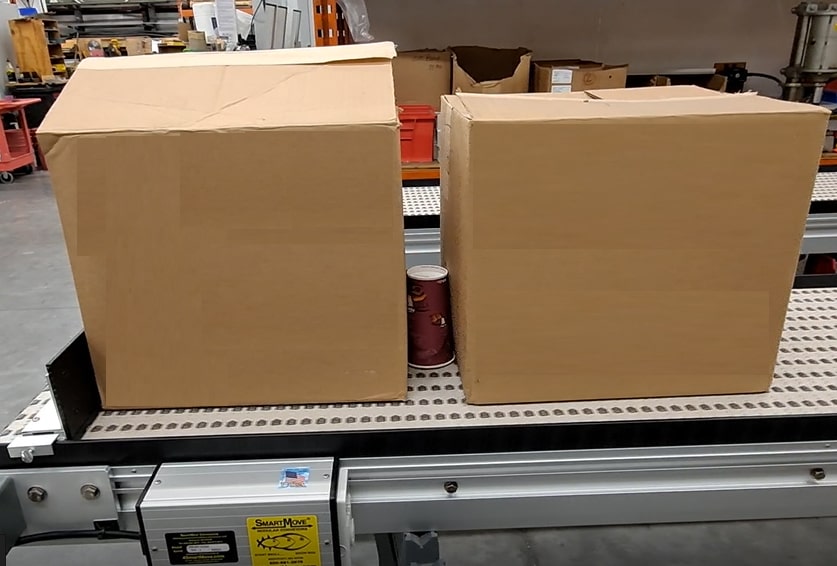 Easy Accumulation With Heavy & Fragile Items
SmartMove®Accumulation conveyor allows for zero back pressure when accumulating product. Heavy 20+ lb boxes are no challenge for SmartMoves long line accumulation conveyor. The boxes continue to queue & never jump the end stop plate. When pushed back due to needing the middle box – notice how the box doesn't come smashing into the end box. This empty cup between two full boxes is a perfect demonstration of 0 back pressure.
Long Line Conveyors Move Items Smoothly
SmartMove® long line conveyors bring heavy 20+ lb boxes from greater distances smoothly. SmartMove® custom manufactures conveyors of any length needed to span your factory floor and can be engineered to move heavy boxes swiftly, slowly or at variable speeds thanks to our quiet, energy efficient low voltage motors.
Watch It Work:
Get a ​SmartMove® Conveyor system to automate your work flow process. Call: 800.581.2876 or click here to order your SmartMove® Conveyor system now.
Click here to see all conveyor system types manufactured by Smartmove® ​​