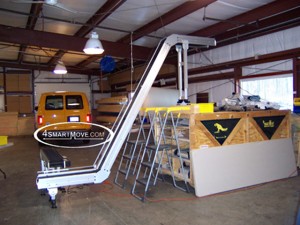 Enclosed edge belt conveyor with unique Beveledge™ belting, designed for carrying small product up inclines. Ideal for clearing automated machinery (such as punch presses and molding machines) of product by the "waterfall" transfer method. Beveledge belting creates a "moving wall" between the stationary frame and the belt to prevent parts from wedging or jamming the flights. Belting has vertical flights with beveled edges that act as a moving funnel to guide parts being dropped onto the conveyor.
Incline Conveyor can be inclined up to 60°, and is ideal for handling loose product from molding and processing machines. SmartMove's exclusive Beveledge belting guides parts onto the belt and prevents jams as pieces are carried by the belt.
Universal modular conveyor sections and remote control drive systems are connected with joiner kits to produce horizontal, inclined or declining conveyor systems. bevel edge belting comes with 1.5″ high clear flights on approx. 12″ centers. Unique snap-together belting installs without tools, is self-tracking, and never needs tensioning.
Incline conveyors carry part up and over, an in feed length is needed with an out feed top of belt measurement to determine the angle or angles. Z conveyors are shaped as a Z or an L, according to your conveying needs.
SmartMove Incline Conveyor Features:
Carry loads up to 25 lbs./foot with flights up inclines as steep as 60°. Variable speeds up to 238 fpm depending on motor and gearing selected
Choose belt widths from 6″ to 24″ in 3″ increments. Path is 2″ smaller than belt width when using standard Beveled belting. Overall frame width is 1″ wider than belt width.
Shipped with 2″ high guide rails made of 1/4″ thick antistatic UHMW
Construction: aluminum extruded frame and stands with all wear surfaces of solid antistatic UHMW
Motor: variable speed brushless DC gear motor with remote mountable controls that include removable power cord, on/off switch, and pre-wired sensor connector. Relay controls and e-stops are available.
Assemble continuous lines with single motor (inclines will vary actual load capacity)
2 Year Warranty
Shipped fully assembled, or in sections for easy assembly on-site.
Portable — Quiet — Clean — Modular — Safe — Energy Efficient — Maintenance Free
A well designed conveyor lasts longer when it is working more efficiently… and by using a smaller motor, the conveyor is safer to operate!
Easy to Order — Quick Shipment — Simple to install With Factory Direct Prices
Incline Conveyor Applications
Carrying small, loose product without wedging or jamming belting
Lifting small items up inclines as steep as 60°
Adding flights to create "drop zones" or to lift items on inclines
Transferring product by "waterfall" method using chutes
Incline Conveyor Specifications
Contact SmartMove for Incline Conveyor Specifications.
Incline Conveyor Info Pack
Want to order?
Get started with our information packet.
Info Pack contains:
Contact information
Specifications needed to order
Product drawing
Product pictures
L/ZX incline conveyors are custom-made.
Call your SmartMove engineering consultant at 800.581.2876 or email us at sales@4smartmove.com.

CLICK HERE to "Spec Out" a custom conveyor system. Built to order & shipped out fast.