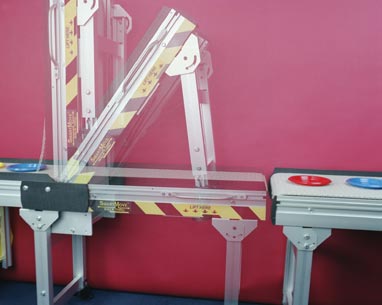 SmartMove® Conveyor Gates allow quick and easy walk-thru systems to be added anywhere along a conveyor line. The gate acts as a drawbridge: when raised, product stops at the end of the previous conveyor, and only continues when the gate is closed.
SmartMove Gate Conveyor Features:
Cut resistant polypropylene belting can handle material that may otherwise damage conventional belting.
SmartMove snap-link belting will last over 5 times longer than other types of belting made of cloth or plastic. Save money by replacing only the damaged sections instead of replacing an entire belt. Quickly repair belt without tools.
Superior low friction allows belt to slide under items to create low pressure accumulation.
Protect operators from injury with unique snap-link belting that acts like a fuse to separate during overload or jams.
Save on electricity with high efficiency drive that uses only 25 Watts (1/30Hp) to carry 200 lbs.
2 Year Warranty
Plug & Play – Easy Installation
Benefits using Walk-Thru Gates with SmartMove modular universal sections:
Quickly gain access to equipment and floor space that is blocked by conventional conveyors.
Make factory floors "handicap accessible: by eliminating "walk-over" systems.
Minimum force open and close.
Create full circulating work cells that allow operators to work inside the loop..
Use the "gate up" or "gate down" to change the path a product takes. With the "gate up", items fall off the end of the conveyor or onto another level conveyor. "Gate down" allows parts to travel over the gate (the gate acts like a drawbridge).
Portable — Quiet — Clean — Modular — Safe — Energy Efficient — Maintenance Free
A well designed conveyor lasts longer when it is working more efficiently… and by using a smaller motor, the conveyor is safer to operate!
Easy to Order — Quick Shipment — Simple to install With Factory Direct Prices
Gate Conveyor Applications
Manufacturing
Modular Work Cells. Create circular work cells that can have access via Walk-Thru Gates. Avoid staircases and "walkover" systems.
Full Loop Accumulating Systems Create circular work cells that allow operators to work inside and outside the loop with quick and safe access via gates.
Automation
Access Equipment Conveyors that connect to automation equipment can use the gate section as a quick and simple lift section to gain access.
Take-away and Clear Zone With remote control relays or sensors, you can index the conveyor belt to create a "dropzone" for parts as they are removed from molding machines or automation equipment. By feeding parts to a gate conveyor, the path can be altered to "pass-over" when gate is down or "drop-off-end" when gate is up.
Packaging Lines
Flow Direction Control. Gates can be used like drawbridges in material flow control. Product can feed across the gate when closed or onto another conveyor line when gate is open.
Gate Conveyor Specifications
Gate Length: 24″ – 48″ (See Drawing)
Conveyor with Gate Length: 3 x Gate Length minimum (not to exceed 144″ overall)
Belt Sizes: 6″, 9″, 12″, 15″ ,18″, 21″, 24″, 27″, 30″, (Conveyor is 1″ wider than belt width)
Frame Support Load: 200 lbs on a single section.
Carry Load: up to 350 lbs. (Actual load depends on Drive speed and motor.)
Accumulation Load: up to 100 lbs. (Approximately 1/3 to rated carry load.)
Stands: Stands at gate support required. Stands are used to support and to join conveyor together.
Folding Stand Option: If using the gate at the beginning or end of a line, the gate section can be supported by the addition of a Folding Stand. The gate is normally supported in the down position by resting on support blocks (included) mounted to the conveyor adjoining the gate section. Do not use a folding stand at the end of a line if the conveyor is going to be connected to another piece of equipment. The folding stand extends beyond the end of the conveyor frame during opening and closing.
Built-in Guard Rails: Removable 1″ high guard rails are included on all models. Optional "flush" guard rails can be substituted when ordering. (See Accessories, Adjustable Guide Rails if you want to deflect product being carried on the belt.)
Minimum Part Transfer: End-to-end transfer with back pressure = 0.5″ long. End-to-end without back pressure = 3″ long.
Maximum incline: 10°
Operating Temperature: 0°-185° F (Please consult factory for exceptions and specialty belting for higher intermittent temperature ratings.
Warranty: 2 Years. (Please download our Owners Manual for a copy of the warranty)
 Gate Conveyor Belt Styles
| | | |
| --- | --- | --- |
| HY-Yellow | RY-Yellow | BY-Yellow |
| Flat — Static Dissipative | Ribbed — Static Dissipative | Brush — Static Dissipative |
| Safety Yellow that eliminates static sparks. Flat belt ideal for inspection and high visibility of moving parts. | 3/8″ high ribs on 3/4″ or more centers. Ideal for drying, cooling or minimal belt contact. Not recommended for inclines or transfers. | Designed to low pressure accumulate circuit boards without sensors. Belt can slide under populated boards. |
Gate Conveyor Drawing & CAD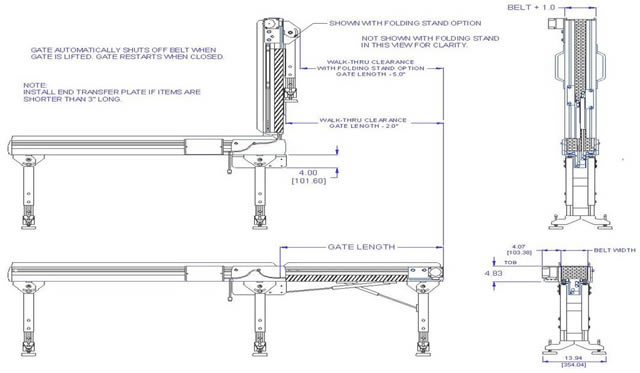 Gate Conveyor Info Pack

 Want to order?
Get started with our information packet.
Info Pack contains:
Contact information
Specifications needed to order
Product drawing
Product pictures

CLICK HERE to "Spec Out" a custom conveyor system. Built to order & shipped out fast.