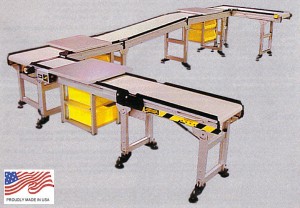 MODULAR CONVEYOR SYSTEMS – BUILT TO ORDER
SmartMove Conveyors modular conveyor systems are uniquely suited for creating custom conveyor solutions. Using combinations of SmartMove's standard accessories, and the creation of custom accessory solutions, SmartMove Conveyors can rapidly adapt to any conveyor need. For help with custom solutions, call us at 1-800-581-2876 or use the contact form on the website.
SmartMove® can manufacture modular systems in just about any configuration you desire. Short line, long line, multi level, multi lane, accumulator, Incline, Decline Z, L, indexing counting, separating and many more. All SmartMove® systems  arrive pre-assembled and are plug & play ready,  right out of the box. Just add the belt, legs and then plug in to a standard wall outlet your self, no technicians needed.


CLICK HERE to "Spec Out" a custom conveyor system. Built to order & shipped out fast.
MODULAR CONVEYORS DONE RIGHT