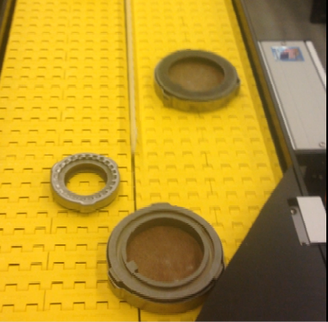 Smartmove Conveyors will create a custom solution for any application for material handling. We have specific expertise with automotive, medical and food applications. All of our clean, quiet, efficient plastic belt conveyors operate without a snag while the self lubricating belting remains free of maintenance.
Parts go around and around while drying waiting to be picked off the conveyor. Two separate belts in one frame allows each belt to travel at different speeds. Two lanes traveling in opposite directions do not need to be equal widths.
---

Continuous Flow Carousel System
While continuous flow conveyor systems are used primarily for material handling and packaging, a custom designed carousel conveyor will allow you to perform a wide range of activities like cooling, drying and accumulating. Carousel conveyors are used for particular industries that need product to keep moving continuously without exiting the conveying surface.
---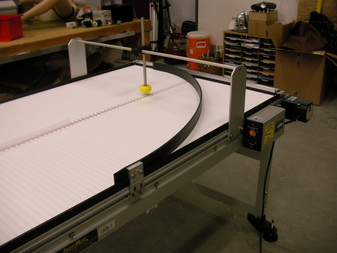 Wanting a U frame or a return conveyor but don't have the space available? Smartmove's Carousel Conveyor carries the load straight back to the operator with out delay. A quick, smooth turn within the same frame makes for the filled packages to head to the wrapping station.
As a carousel conveyor allows products to go around and around, it works great for pick & place applications. If an item or part is not picked the first time, it continues to go around until picked up the next. Carousel systems are also used as a return as well. Let SmartMove convey & return for your assembly line, click here to order now.

CLICK HERE to "Spec Out" a custom conveyor system. Built to order & shipped out fast.