Packaging Line Conveyor – Box Erector Incline System
Incline conveyor used for box erector packaging line. No height is too much for our incline conveyor systems. Many incline units are hung from ceilings if necessary. Empty boxes travel from case erector cue waiting to be filled. Accumulating boxes travel to fill station. After boxes are filled one box is released for pallet packaging. We custom engineer our modular conveyors with features like Decline, 90 Degree Turn, S Curve, Multi Lane & Multi Level are other special features. You name it, we'll do it.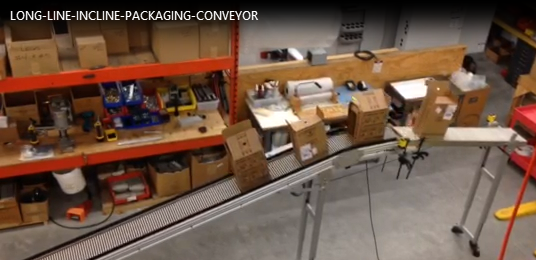 Custom Conveyor Manufacturing Expertise
As a manufacturer of custom modular conveyors, we add the exact accessories needed to automate your work flow processes. Our conveyor systems feature the latest technology, are safe to operate and run maintenance free.
Factory Direct Prices – Fast Shipment
Easy Installation – Plug & Play Ready
Call SmartMove® Conveyors at: 800.581.2876
or click here to get an online quote.
Related Posts:
https://4smartmove.com/food-packaging-conveyor-for-heavy-items/
https://4smartmove.com/accumulating-conveyor-separate-motors-for-individual-indexing-processes/