Elevator Conveyor Systems
This Incline/elevator conveyor is used for scooping up materials passing through a process which dump into a hopper or second conveyor. E-stops are located in convenient proximity to operator. Increase your production line by using a SmartMove incline conveyor. Up and over can be accomplish with a "Z" or "L" style conveyor.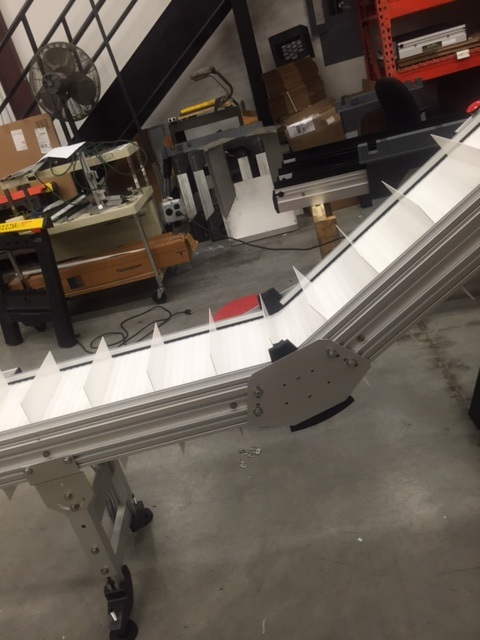 Safety First
All SmartMove Conveyors are designed with safety in mind. With this conveyor system, parts cannot get caught in frame or between belting. As there is no sag under the conveyor belting, pinch points are eliminated so fingers can not get caught. The tightly pinned belting rides between the aluminum extrusions creating a snug pocket for parts to be carried up & over.
Incline Z & L Conveyors
Each conveyor system we manufacture is custom engineered. Our sister company, AMA Engineering assigns a team to each project and work with your staff to analyze process. Your system will be designed to automate all processes for maximum efficiency. Engineering is just another service Smartmove can provide.
Call SmartMove® Conveyors at 1-800-581-2876 or click here to see our "Z" & "L" conveyor line(s) for your next part carrying project.