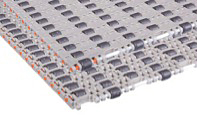 At SmartMove Conveyors, we offer all types of belting for new or existing conveyor systems including Accumulation Belting, Flat Top Pinned Belting, Cooling Belting and Rubber Top Belting. Click here to view our current selection of belting product solutions.
We can also custom manufacture belting which combines different features for your exact needs.
Our Accumulation Belting features low friction and is optimized to accumulate and convey cases, cartons, totes and multi-packs in various materials including cardboard, lithographed cardboard,plastic, paper, fiberglass and shrink wrap.
The new, high density roller design produces a more stable accumulating surface to accumulate your product with no damage to the package surface.