Most anything can make the SmartMove® 90 degree turn. Large, small, oddly shaped, food, packages, automotive, medical supplies, etc.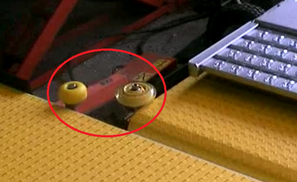 This large lighting fixture is smoothly transferred across two wide SmartMove Conveyors.
​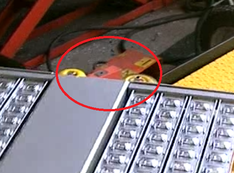 SmartMove® manufactures a wide variety of conveyor accessories to allow for easy customization. This includes transfers, stops, controls, countertops, hoods, blowers, rollers and custom hardware like corner or end to end transition plates. Our complete systems improve the efficiency of material handling in the industrial, electronic, pharmaceutical, automotive and food industries.
Other Accessories From Smartmove®
TRANSFERS – STOPS – CONTROLS – COUNTERTOPS – HOODS – BLOWERS – ROLLERS – HARDWARE – CHUTE – TRANSITION PLATES
​Let SmartMove Conveyor make a smooth transition of your product today. ​ Call 1-800-581-2876 or click here to get a fast online quote now.​
Related Pages:
4smartmove.com/conveyor-accessories/
4smartmove.com/custom-accessories/