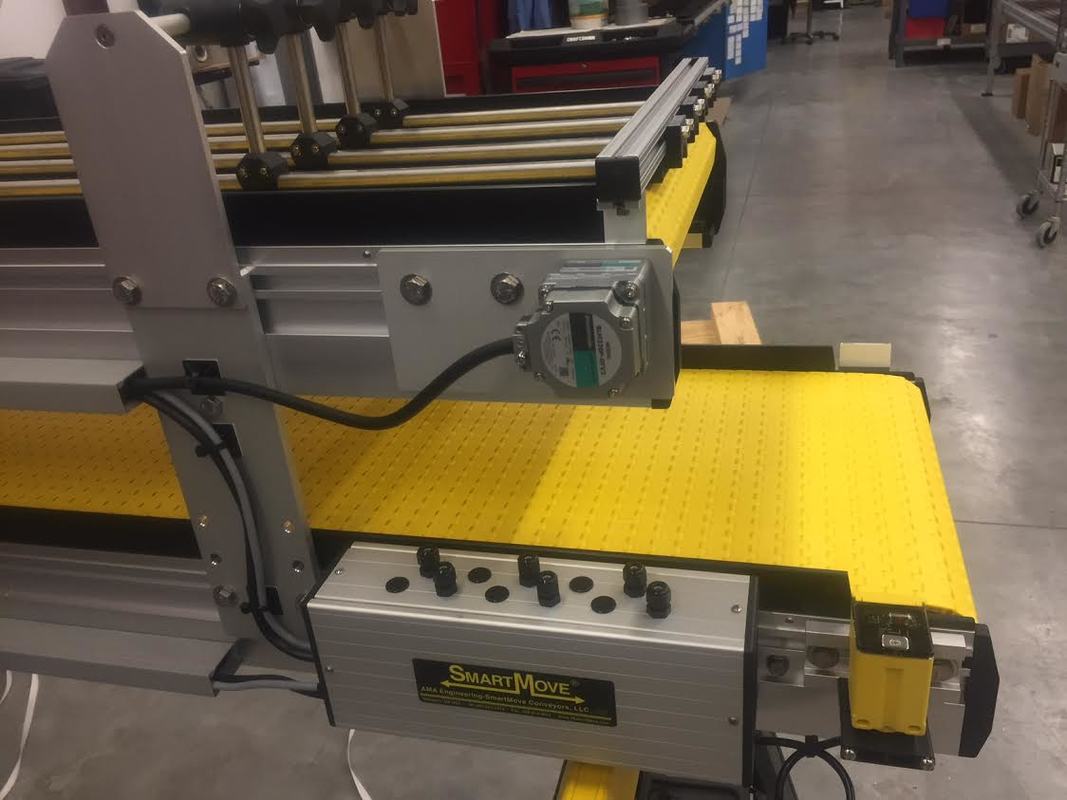 This SmartMove® infeed conveyor is used for keeping different products separated. The adjustable overhead lane dividers make it possible to sort, position or separate small parts or packaged products using just one wide conveyor.
The Over-Under design allows parts to be dropped onto the top conveyor, processed then returned on the bottom conveyor. SmartMove® Conveyor systems can be interfaced with robots for a "lights-out" process.
The ESD Belting provides a safe non-shock work environment. The overhead gantry lane divider allow production facilities to use one wide conveyor for several different products to separate items or push them into position. No need for two conveyors when one wide unit will do, saving valuable space, orientating the product or guiding products for packaging. The overhead lane divider is a smart choice when separation by product type for packaging and shipment is needed.
Patented drive motors can be installed anywhere along the frame for independently controlled zones. Single modular frame design simplifies installation and eliminates alignment adjustments, while allowing for multiple sections as needed. With no framework between moving belts, part transfer is seamless and efficient.
Conveyor Systems Made To Order
SmartMove® manufactures systems that are custom engineered to order. Call 800.581.2876 so we can help automate your work flow processes to reduce operating costs and increase worker productivity and safety. Click here to inquire or to "spec out" your order online.
Related Posts:
4smartmove.com/industrial-conveyor-machine-cell-infeed-system/