Conveyor Belting – Easy Repair & Maintenance
Smartmove Conveyor's proprietary snap together conveyor belting systems> allows for easy maintenance and fast repair due to it's link by link construction. Our snap link conveyor belting makes it easy to clean up, assemble, disassemble or to patch up. There is no need to replace an entire belt, just replace any damaged piece(s) or section.
Sanitary Material Handling Conveyors
Our plastic chain belt conveyors are sanitary, safe, washable and easy to maintain which makes them ideally suited for the medical, pharmaceutical and food industries. As a specialized conveyor systems manufacturer, we also offer an anti microbial Microban option to meet medical industry standards for pharmacy production line operations and/or food sanitation requirements.
Custom Conveyor Belting Options
ALL MATERIALS ARE FDA APPROVED.
Standard Belting
Ribbed Belting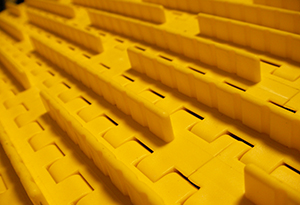 Flat ESD Belting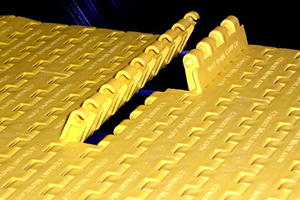 Brush ESD Belting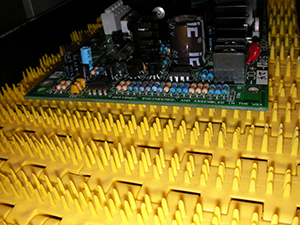 Detachable Flights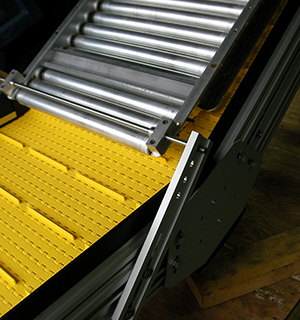 ---
Accumulation Belting – Rollers
Low friction belting-optimized to accumulate and convey cases, cartons, totes and multi-packs in various materials including cardboard, lithographed cardboard, plastic, paper, fiberglass and shrink wrap. The new, high density roller design produces a more stable accumulating surface to accumulate your product with no damage to the package surface.
High density roller design produces a more stable accumulating surface to accumulate your product with no damage to the package surface.
---
Flat Top Pinned Belting
For heavy loads: high performance pins for higher speeds and longer wear life.
Closed hinge design is ideal for container handling and decreases pin wear and chain elongation.
These highest quality of products improve energy, reduce waste, improve safety and deliver a dependable product for operation. Our design engineers provide the expert advise to optimize your specific application.
Food belting – FDA and USDA approved belting.
---
Cooling belting 20% open – Great for food applications.
Specially formulated proprietary blend of nylon ideal for tough, fryer and oven discharge conveyors
• Minimizes material degradation and brittleness ensuring long chain life
• Can withstand contact temperatures up to 350° F (180° C)
• Will self extinguish per the UL 94 V-2 Standard when the source of ignition or flame is removed
• FDA approved
• Can increases chain life up to 3 times over other materials
• Chains are supplied with polyester pins as standard and stainless steel pins as made-to-order for improved chain rigidity and wear resistance
• Variety of pusher attachments are available
• Positive pin retention systems for easy installation and maintenance
---
Rubber Top Belting
High Friction belting designed for in cline and decline conveyors. Used for secure handling. Maintains pack spacing and prevents package skewing during conveyor transfer. FDA approved materials, pusher attachment available, self-cleaning. No lubrication needed.
---
Custom belting – for any application.
Let our experts decide which belting would be most appropriate for your application. Many belts for different applications are readily available and interchangeable which makes SmartMove Conveyors the most modular conveyor on the market today.
If you don't see a particular belt you may be looking for, please don't hesitate to ask our consultants.