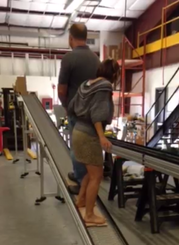 This major incline conveyor is light enough to be ceiling mounted, yet powerful enough to lift hundreds of pounds. This system is used for pulling sealed products up a 45 degree incline. Grippee belts flip product directly into box for packaging. Any angle variance can be accommodated.
A non-friction belting option is available and location of flights can be adjusted for applications like packaging scraps etc. The smooth ride prevents damage to products or packaging. Increase your production line with a SmartMove incline conveyor. Up and over can also be accomplished with our "Z" or "L" style conveyor options.
Custom Conveyors
SmartMove custom manufactures solid surface conveyors that are safe, clean, efficient and available with any combination of configurations such as: Z, L, up & over, work station, short line, long line, multi level, weigh scale, batch counting, spacing or carousel. Our sister company, AMA Engineering is ready to customize your product line at no extra charge. Call SmartMove® Conveyors at 1-800-581-2876 or click here to order a conveyor system online now.