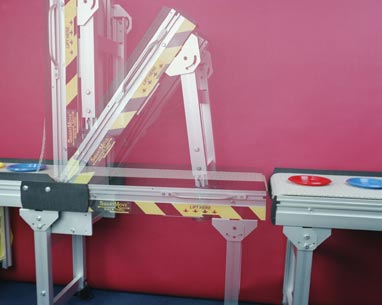 Smartmove gate conveyors are available in many different configurations. Our team of engineers will work with your staff to determine which features will accommodate your work flow process. Here are some of the options for consideration:
Available Specifications:
Widths: 6" to 30".
Lengths: 2' to 40' with single drive.
Loads: Up to 350 lbs per drive.
Accessories:
Walk-thru gates.
Sensors.
Side shelves.
Countertops.
Multi Level supports.
Casters.
Uses:
Mail order fulfillment.
Multi-level delivery systems.
In-line sequential assembly.
Automation.
Medical (Class 100).
Constructed with heavy duty anodized aluminium with static dissipative UHMW polyethylene wear surfaces.
Proprietary non-dusting snap link polypropylene belting (Available with smooth, ribbed or brush profile surfaces).
Maintenance free performance.
2 year warranty on all systems.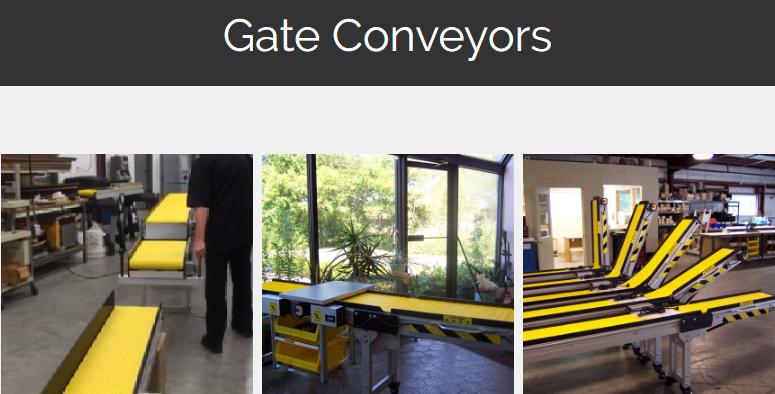 Gate conveyors increase available floor space, allow better access to equipment, eliminate walk over systems and make factory floor handicap accessible.
Portable — Quiet — Modular — Safe — Energy Efficient — Maintenance Free
Call 1-800-581-2876 or click here to have us build your system now.
Related Posts:
https://4smartmove.com/sliding-gate-conveyor/
https://4smartmove.com/gate-conveyors/
https://4smartmove.com/portfolios/101-sliding-gate-conveyor/