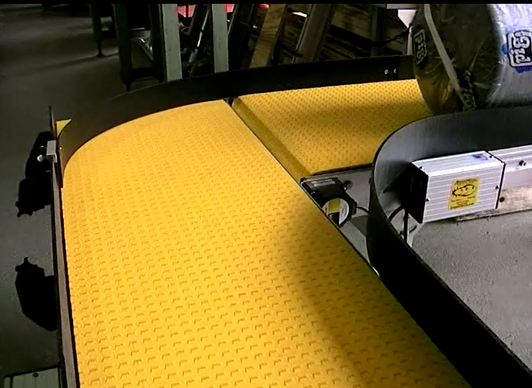 Long products turning 90 degrees are no problem for this little SmartMove® Conveyor that moves large items with ease. Product transitions are smooth and quiet while allowing long applications to be conveyed around corners to conserve space and energy. As a green conveyor manufacturing company, our engineering team takes space & time into consideration when creating an efficient system for your facility & operation.
SmartMove® 90 degree turn conveyor systems can be customized to handle items of all sizes and shapes. Other configuration options include: multi-level, multi-lane, carousel, short line, long line, accumulation, incline, decline and work station.
Call SmartMove Conveyors at 1-800-581-2876 or click here now to order a custom system.
Related Posts:
4smartmove.com/90-degree-turn-conveyor-with-multiple-levels/
4smartmove.com/90-degree-turn-packaging-conveyors/
4smartmove.com/90-degree-turn-conveyor-system-maintains-product-item-orientation/